Northalsted, Chicago's Proudest Neighborhood
The first officially recognized gay village in the United States, Boystown Chicago is the commonly accepted nickname for the eclectic East Lakeview neighborhood known as Northalsted that is home to Chicago's visible and active lesbian, gay, bisexual and transgender community.
Northalsted, the first official gay neighborhood in the country (credit: northalsted.com)
Northalsted is situated just southeast of Wrigleyville in Lakeview. The area is bordered by Broadway Ave. on the east and Halsted St. on the west, Grace St. to the north and Belmont Ave. to the south.
The two main (north-south) avenues of Halsted St. and Broadway dominate the heart of this commercial and entertainment district. Broadway primarily offers a variety of themed shops and restaurants stretching throughout the neighborhood while Halsted caters to a lively nightlife with more than 30 different gay and lesbian bars, nightclubs and restaurants.
The neighborhood is also home to the Center on Halsted, the Midwest's largest LGBTQ community center that welcomes over 1000 people per day. Northalsted hosts a number of annual events — Chicago Pride Fest, the Chicago Pride Parade and Northalsted Market Days — drawing over one million people to the North Side neighborhood each summer.
Immerse yourself in LGBTQ Chicago!
Chicago is the perfect place to celebrate pride this summer, with a vibrant LGBTQ+ community and events that cater to everyone. Here are some additional activities while visiting.
Legacy Project Rainbow Pylons
While visiting the Northalsted neighborhood, it won't take long to notice the 20 rainbow pylons that adorn "Chicago's proudest neighborhood."
The 25-foot-tall pylons were designed and installed by architecture firm DeStefano+Partners as part of a series of streetscape projects under Mayor Richard M. Daley. They were officially dedicated in 1998. It was the first time a city government officially recognized an LGBTQ community.
In 2012, the Legacy Project selected the unique rainbow pylons as the location for the first outdoor museum recognizing the significant world achievements and contributions of LGBTQ people.
As of 2019, the pylons have been enhanced with 40 illuminated bronze plaques dedicated to historically important figures, including Frida Kahlo, Jane Addams, Sally Ride and Alan Turing. The plaques are mounted with stainless steel frames on the sidewalk-facing sides of each pylon and is known as the Legacy Walk, the world's only outdoor museum dedicated to LGBTQ history.
The nonprofit Legacy Walk Organization was organized by longtime LGBTQ activists Victor Salvo, Lori Cannon and Owen Keehnen. (legacyprojectchicago.org)
Center on Halsted - 3656 N. Halsted
Center on Halsted is the Midwest's largest comprehensive center serving the LGBTQ community of Chicago. The Center hosts a variety of cultural events including concerts, theater performances and lecture series, as well as sports and recreation programs. (centeronhalsted.org)
Bars, Nigthclubs and Restaurants
The stretch of entertainment on North Halsted from Belmont Ave. to Grace St. is home to some of the oldest and most iconic LGBTQ owned and operated establishments in the Midwest. From the neighborhood's hottest drag brunch at D.S. Tequila Co, slushy drinks on the rooftop deck and show-tune nights at Sidetrack, to banging nightclub DJs until 4am at Hydrate Nigthclub, you can find just about anything to match your taste and time of day.
Celebrate summer on Sidetrack's large rooftop deck (credit: Sidetrack)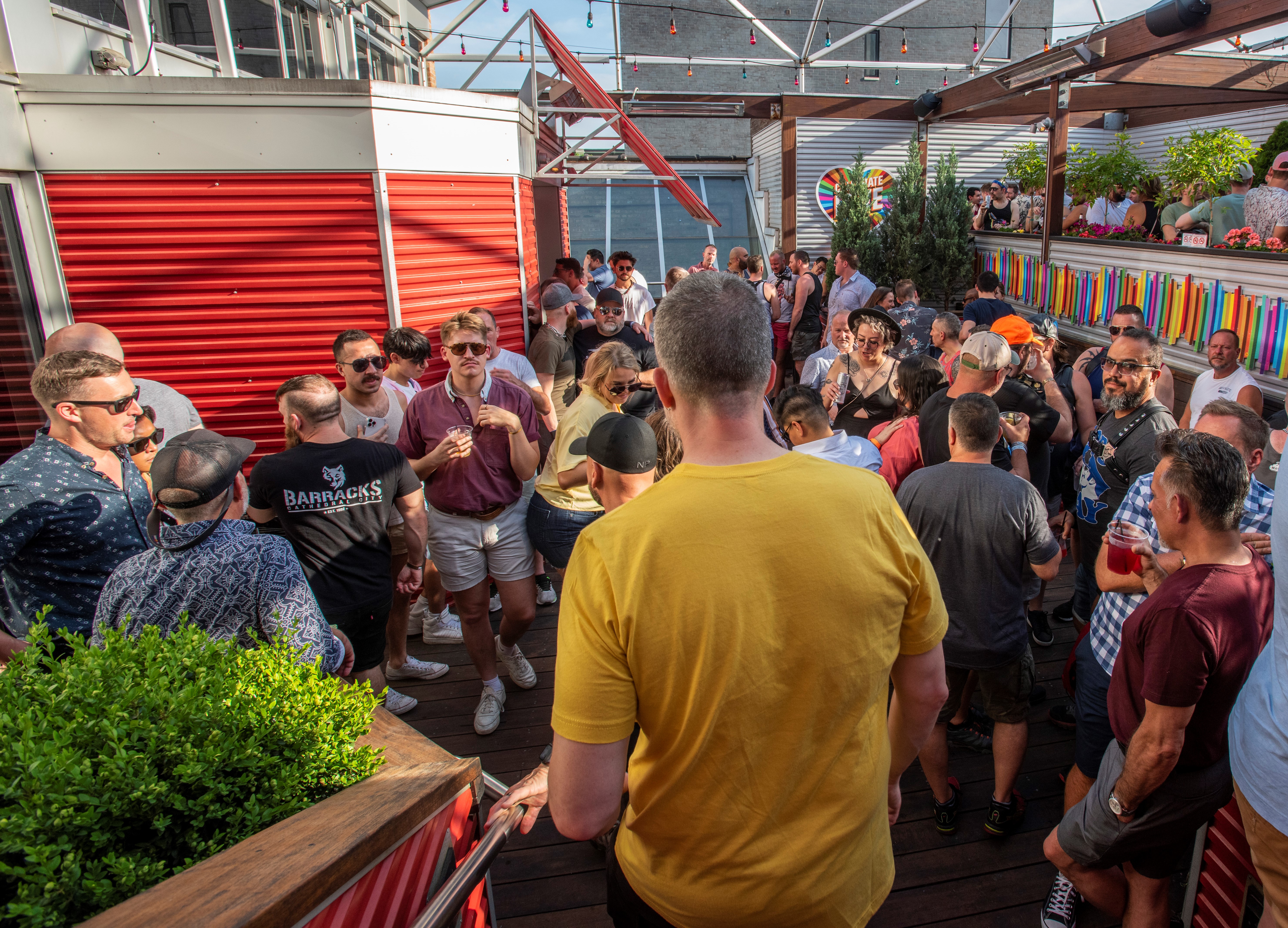 Header Image: 750-square-foot queer-themed mural covering the entire south wall of the Howard Brown Health Center, 3245 N. Halsted, honoring non-binary community members and features holistic healer and interdisciplinary artist Kiam Marcelo Junio. Artists Sandra Antongiorgi Music Artist, Andy Bellomo, and Sam Kirk completed the LGBTQ tribute mural iin 2018 to open dialogue about queer culture and community. Image courtesy: Del Nakamura (northalsted.com).